The history of NCR paper ?
The phrase 'carbon copy' gets its meaning from carbon paper; a paper designed by Pellegrino Turri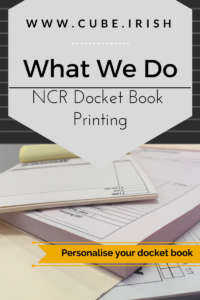 to allow his blind wife to write letters, without making a mess with the ink.
Carbonless copy paper or NCR paper (No Carbon Required) was later developed by chemists Lowell Schleicher and Barry Green as an alternative to carbon paper. The two men worked for the National Cash Register Corporation, who piggybacked on NCR's corporate name by calling the paper No Carbon Required paper.
So how does NCR paper actually work?
It is a type of coated paper designed to transfer information written on the front sheet onto the sheets beneath without the use of any electronics.
Instead of inserting a special sheet in between the original and the intended copy, carbonless copy paper has micro-encapsulated ink on the back side of the top sheet and a clay coating on the front side of the bottom sheet.
When pressure is applied from the writing instrument, the dye capsules break and release their dye.
The ink reacts with the clay to form a permanent mark duplicating the markings made to the top sheet.
Intermediary sheets, with clay on the front and dye capsules on the back, are used to create multiple copies. Since the capsules are so small, the resulting print is very accurate.
What is NCR paper used for?
NCR paper is typically used in duplicate pads (known as NCR Pads in the printing industry), where the user requires instant multiple copies of what is being written, for example; an invoice or receipt pad where the company keeps one copy and the customer receives the other.
NCR Paper can be printed on in single colour, spot colours or full colour, this means that your pad or book can be personalised with your logo, contact details and any specific forms or layout that you may require.
Personalised NCR printing to match your existing business stationery will maintain consistency across your brand and will portray a professional look to your customers. They also provide a great reminder of your business to your customer as a past invoice or receipt is where most people look when it's time to re-order something.
NCR paper is typically supplied in pads which are glued to one edge allowing all copies to be removed. You may prefer them as books which are stapled and perforated allowing you to leave the copy in the book for safe storage. NCR forms can be numbered sequentially for essential record-keeping. NCR forms can be ordered loose, padded, or bound into a booklet, a common practice for invoices or receipts.