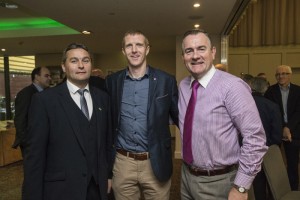 An unlucky date for some and dreaded by many – but not for CUBE. On Friday 13th of November our General Manager and the Limerick Senior Hurling manager TJ Ryan spoke at the long awaited Club Limerick Business Breakfast at the Limerick Strand Hotel. The Shannon Suite was filled by throngs of Limerick business people which made for an excellent morning of networking, despite the miserable weather. The event ran seamlessly from start to finish and proved to be a hugely inspirational morning. Along with TJ, other key speakers were Liam Sheedy and Henry Shefflin. Liam spoke about how the secret to success, both in sport and business, is looking you in the mirror. You need to push yourself out of your comfort zone and give it 100% in order to reach new levels on the success ladder.  He made a lasting statement which seemed to have been noted by many who attended – "learn from the past, don't live in it."
Henry compared his journey of starting out in hurling to starting a new business, although he struggled to make the cut on his school team he didn't let it deter him from playing the sport he was passionate about. He persevered, learned from the challenges that faced him and went on to achieve great success. This mentality has stood to him throughout his hurling career, through four serious injuries Henry has come back stronger and stronger each time, speaking of the injuries he said "if it hits you again you'll know how to cope". This is the attitude and approach that business people need to apply when trying to make it in the competitive business world, don't stop at the first roadblock you encounter. Persevere.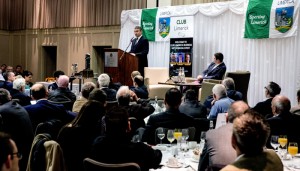 TJ gave a detailed insight into the comparisons of managing a business department and managing a hurling team. A huge proportion of work occurs behind the scenes to create what people see on the surface. Just as Limerick GAA invest energy, time and money into their 40 players to better their game, select the best backroom team members to fit the club's culture and set plans for the future; businesses invest in training, upskilling staff, upgrading systems and procedures and attend networking events in order to reach its goals. Similarities can be found between the two, however, the most imperative of all is to "build the best team you can and surround yourself with good people."
Positive vibes and positive people are key to achieving in any organisation or business. "Regeneron have moved in, Cruises Street are back to 100% occupancy, Apple have announced new jobs, hurling team is going well, look at what the soccer boys nearly done; kids have heroes and this gives them and us aspirations/dreams'. TJ went on to say "in business/life/sport whether you are looking at the glass half full or half empty at the minute, for me it doesn't matter. The glass can be filled."
Also attending the event from CUBE was MD Brendan Ring, Sales Executive and Limerick Senior hurler Kevin Downes and Marketing Manager Rachel Leahy. We are already looking forward to the next event by Limerick GAA.