This year Cook Medical are celebrating 20 years of successful business in Limerick and we want to wish them continued success as one of the world's leading medical device manufacturers.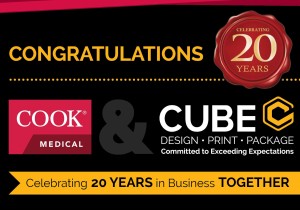 Similarly, CUBE are also celebrating 20 years of business. We appreciate the journey of growing and guiding a new business. Cook Medical have grown their operations in the National Technology Park, Castletroy, Limerick. From here it has grown from a primary team of less than a dozen people to a staff of over 800, who are designing and delivering life-changing devices every day.
The medical device company provides minimally invasive technologies that are designed to eliminate the need for open surgery for patients worldwide. In 2011, Cook Medical won the Irish MedTech Excellence Award and was recognized by the Limerick Chamber as Company of the Year. Today manufacturing at the site accounts for more than 10 percent of Cook Medical's product output to global markets.
CUBE have been supplying Cook Medical with printed materials for 20 years. CUBE understands the exacting time frames and very technical information that must meet the EU Regulatory framework in which they operate in. To discover more about Cook Medical and CUBE's successful relationship watch this short video where Paula McGrath, Buyer at Cook Medical, explains;
Cook Medical from CUBE on Vimeo.
Happy Anniversary to all the staff at Cook Medical and wishing you continued success!
From the team at CUBE.