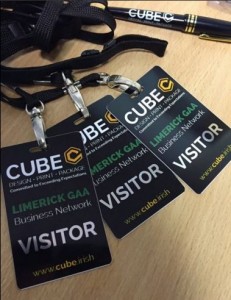 Club Limerick Networking Group was set up by Limerick GAA with the aim of giving Limerick people the opportunity to network with like-minded business people and to share ideas and grow social circles. Members of the Club Limerick Networking group meet once a fortnight, each time at a different location. Members take it in turns to host the networking morning on their own business premises. On February 5th is was CUBE's turn.
We opened our doors to 33 members, welcoming them with a cup of coffee and a personalised visitor badge for the occasion. It was the perfect opportunity to explain to people how CUBE has grown over the past 20 years and where we see ourselves going in the future. MD Brendan Ring quoted Mr Peter Drucker when he asked the question "what is the purpose of a business?" many people understandably answered "to make money". However, that is not what Mr Drucker believes, or CUBE. The purpose of a business is to create and keep a customer. The customer is vital to a business and keeps it in existence. The customer alone gives employment. "And it is to supply the customer that society entrusts wealth-producing resources to the business enterprise."
On this note, members introduced themselves, what they do and what they are looking for. This was an extremely positive and productive meeting, many members' generated new leads/ new customers for their business.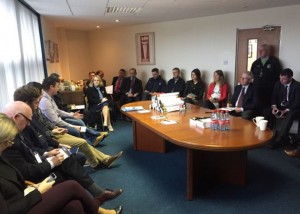 TJ Ryan, CUBE Sales Director, closed the morning with a quick comparison of operating a successful business, and managing a sports team towards reaching their goals. Both take commitment, teamwork and effort.
Guests were invited on a 'behind the scenes' tour of the plant and offices before departing. Brendan talked through and demonstrated CUBE's process and introduced the rest of the team.
Congratulations to DPS Audio Visual on winning a €100 print voucher for tweeting us with feedback on the event.
A great morning of networking has left us excited for the next meet!