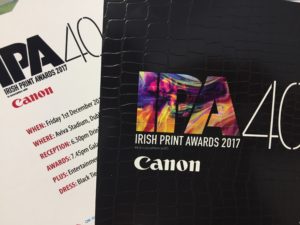 The Irish Print Awards are taking place in the Aviva Stadium this Friday, December 1st.
The Irish Print Awards have become an important date in the diaries of professionals in the design, print and packing industry in Ireland, and this year they celebrate their 40th anniversary in association with event sponsor Canon – who are celebrating their 30th year in business.
"2017 is a very important year for both Irish Printer magazine and Canon Ireland as this year marks the Irish Print Awards 40th Anniversary and Canon Ireland's 30th Anniversary. These are major milestones for both the Irish Print market and Canon so it was natural fit." Philip Brady, Head of Canon.
The event recognises the talent within this longstanding industry and gives appreciation to the stunning pieces of work produced throughout the year. The nominees produce world-class printed matter that are put before a select team of industry experts for judging. The winners are announced at the long-awaited black-tie gala dinner and awards ceremony.
CUBE are honoured to be nominated for three awards this year in the following categories; Graphic Design and Print Excellence Award, Book Printer of the Year and Events and Corporate Stationery Printer of the Year.
Best wishes to everyone this Friday, we look forward to meeting our peers and friends again at this years event.